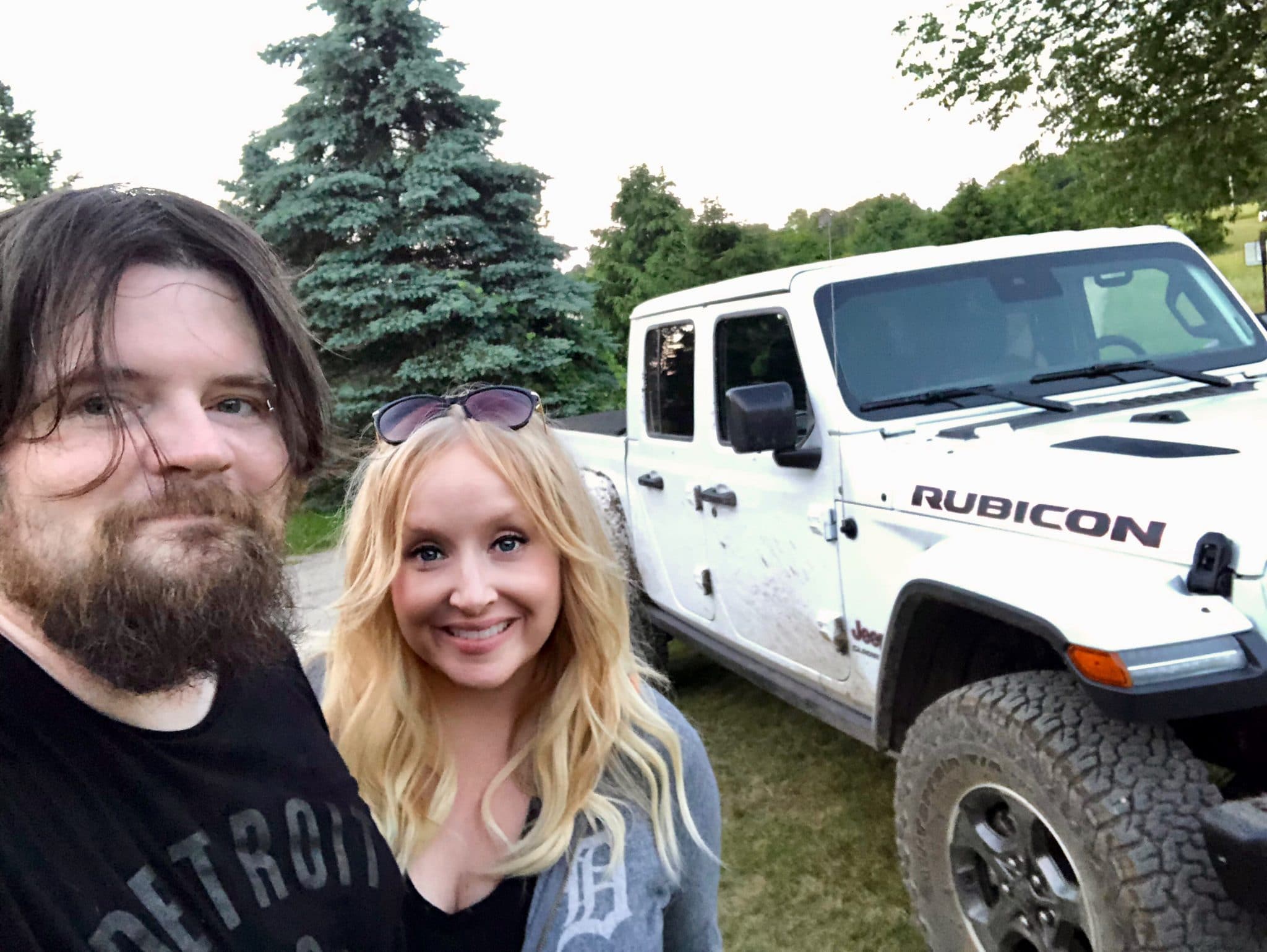 (This story was originally published on the now-defunct JeepWave.com)
HOMEWARD BOUND
My first Jeep memories come from my dad and his red '71 CJ5, so when the Gladiator was officially announced he was the first person I sent a link to. "When are you gonna bring one over here?" was his first reply. "As soon as I can!" was my response. 

I live in Detroit now, but I grew up on the west side of Michigan, about a half-hour south of Grand Rapids in a small town named Middleville. Or as my wife Darla likes to call it "middle-of-nowhere-ville." Recently I wrote about my memories of bombing around off-road with my dad in that old Jeep, and I was stoked at the thought of doing something similar to the new one! 

Jeep set me up with a bad to the bone, top of the line Gladiator Rubicon. The metal fabricator in me was immediately impressed by it's sturdy and thoughtful build qualities, so much so that I wrote a piece on just that for my blog on TheFabricator.com. "In an age of plastic bumpers, bedazzled wheels, and other bits of faux off-road virtue signaling, the Jeep Gladiator Rubicon is breath of fresh, argon-tinged air" is the intro. While our version had the leather interior and nice sound system, the magic is in the Jeep's aforementioned bones. 

The Gladiator Rubicon makes you feel unstoppable, invincible even, and it puts you into a mindset where no part on a map seems untouchable. It's like an elite athlete that trains for years to the point where all action is muscle memory and success is inevitable. Dana 44 axles front and back, aluminum bodied Fox shocks, a ladder frame much like the Ram, steel skid plates and slide rails below and on the side, and sturdy steel bumpers are on the front and back. Our truck also had 35" BFGoodrich KO2 all-terrains on it. 

My wife Darla and I bombed around Detroit for a bit, Freedom Top off, SXM Channel 44 bumpin', and dogs in the back seat. It's been a while since I've been in a "convertible", and I'd forgotten how good it feels to go sans roof. April (the rescue pit bull) and Lucy (member of the Maltipoo Mafia)  loved sitting up high on the rear seats with the wind pushing their ears back. We did a little bit of urban exploring on Friday before dropping the pups off at Darla's parent's place and heading west. 
Our family no longer owns the land I grew up on, but my parents still live in the vicinity. And near to them is my brother-in-law Brian and sister Amber's farm. Brian is the town dentist, but he's still a farmer at heart and, along with his brothers, still actively grows and harvests crops. This means he has acres and acres of crops, all surrounded by two tracks and trails. Adjacent to the fields is a lot of wooded lands, much of it slopes down to ponds or the Thornapple River which makes for some interesting terrain. There are a few trails into the woods that trucks can handle, but most of them are for side-by-sides. And, possibly, Jeep 4x4s?   

I was excited to dive in to what the Gladiator could do. We had a Ram Rebel out there last year, and while we took it through the trails wide enough for a big truck, we were mostly looking for muddy fields to make a mess in and a hill to climb. This time I'd dig a little deeper. And I'd do it with passengers, over, and over, and over.

As the oldest of nine, it's a minor miracle to have all my siblings gathered in one place at one time. One sister lived in South Korea for ten years, another lives in Hawaii, another just move to Chicago from San Francisco. One of my brothers resides in Rhode Island. This weekend saw 7 of the 9 in town for my sister Hillary's birthday, along with my mom and dad, 8 nieces and nephews, 3 spouses and 1 future spouse. It was a full house, and they all wanted to ride in the Jeep!
And ride we did. I'd pick up a group at my parent's and drive a mile to the farm and we'd hit the trails immediately. I think we logged 5 (maybe 6?) different joyrides on Saturday, each one lasting about an hour. Every time out offered a new glimpse into what the GR could do. There were also 3 times on 3 different trips where the truck did something and there was a collective "I can't believe we just did that" moment…
INTO THE WILD
The first thrill ride into the wild was with Darla in the front and Brian sitting in the back seat. I'm still getting used to the lay of the land and Brian knows it like the back of his hand, so mostly I was following his direction. We actually had to hop on M37 to access more fields and woods that surround his parent's farm, which is about a mile in the other direction from my parents' place. He had a spot in mind to test the Gladiator Rubicon.
Crossing over from the edge of the corn crops into the brush and the woods was interesting every time. Only a couple of their usual trails have an obvious entry point; you almost went into the treeline blind, hoping a secret entrance would open up like the batcave! 

"This trail we started so we could log down by the river" Brian remarked as we headed towards the trees. 

Let me put "trail" here in quotation marks. Brian pointed to some bushes and said "go in there." 
There was no marked route, just some spots where the trees, both standing and fallen, were far enough apart to fit through.
"I went down here in a side-by-side last week!" They have a 6×6 Gator which is *significantly* smaller than any 4×4 Jeep or truck or Jeep truck.        

The Gladiator crept through the thick underbrush at the edge, down an incline, between trees and over logs, until we hit the marshy bottom. Darla pointed out that there was running water ahead. Brian noted that there was a giant fallen log in front of us, perpendicular to the Jeep.

"This is where we stopped with the side-by-side…but we had kids with us."
He was egging me on to keep slinking forward, right? I thought so, so I did. I probably should have paused when he exclaimed he wished he'd have brought his chainsaw. Instead, I put it in 4-low and climbed over the log. The ground went from being soft to mud to Darla nervously laughing and declaring "oh… we're in the middle of a swamp." It wasn't deep, but most of it was hidden by plant growth. Decaying logs sat half sunk. We were in a mud stew, and it was difficult to judge just how sloppy it was. 
"What's beyond there?" I pointed forward, directing the query at Brian. 

"I don't know, I've never been beyond here."

The timber and mud below cracked and splashed as the Jeep rolled through. We veered left to avoid a massive stump. I didn't realize it at the time, but large chunks of the formerly proud tree laid all around it. They must have been left behind in their last logging expedition, mostly submerged and obscured in the swampland. Just more obstacles that the Jeep didn't mind. Finally we ran out of real estate at the river. With no place to turn around, it was time to do everything in reverse! 
The Gladiator didn't struggle in the slightest. There was nerey a moment where it even hesitated. It just went where I told it to go. It wasn't until later that I found out the Brian was actually nervous, but just didn't let on. We'd driven beyond where he would have been able to stretch a chain to one of his tractors to pull us out. Luckily for us, the Jeep didn't need any help!
Darla rode shotgun on the 2nd run too, this time accompanied by our nieces Izzie (12) and Nora (5), and nephew Jack (4). Nora is Brian and Amber's oldest daughter. She makes almost nightly runs around the fields with mom and/or dad in the Gator, so she also knows the land well. I ventured off one of the usual routes towards a flooded area in a soybean field. She wasn't having it.

After being splashed with mud and having tree branches comb through everyone's hair more than once, Darla asked Nora if uncle Josh was lost.

"We are at a spot but I've never been to and this is not a trail!" she emphatically stated. 

Eventually, I got her on my side, sort of, and we made new tracks. While others were waiting their turn, she made the case for staying in the Jeep as I headed back towards mom and dad's place:

"You need to take me on all your rides, or you'll get lost!"

"It's ok, I have GPS," I replied. 

"I AM THE GPS!!!" Norah exclaimed indignantly.  
Somehow I was able to navigate the future thrill rides without Nora. Now it was my brothers' turn. Travis, Jordan, and his fiancé Jeremy. Travis actually works for FCA and did some engineering on the Gladiator. They're all in their twenties, and I was getting more and more comfortable with the lay of the land, so I pushed the Jeep a little harder. But when it came time to dive into the woods, I couldn't find one of the "secret" entrances along the tree line. 

"Go in here, we'll just take it slow," Travis said pointing to a general area you wouldn't be able to walk through without a machete. 

What's the worst that could happen??
CLOSE ENCOUNTERS
I should start the end of our trilogy by pointing out that my brother Travis does stuff like free climbing freaking mountains, so he's pretty adventurous. 

I nosed the Gladiator Rubicon in. There was no trail, no path, and the woods were thick with brush and trees but two of those trees seemed to provide a path between them just large enough to slink through. We crawled down and I angled the Gladiator between them. My spatial relation skills are pretty good, and I was confident we'd fit. I don't think my brothers were as confident, but they were all in. By the time we were past the point of no return, I realized that the Jeep was going to make it with *maybe* an inch to spare on either side. Thank god for those side rails.
Farther down the slope there was another opening between two more trees and they were plenty far apart for us to drive through. 

I wanted to make it to the bottom of the hill, but that wasn't happening without a chainsaw. After the second set of trees there were no more openings. We were at a dead end. And I couldn't back out this time. I decided the best route would be a 12 point turn. Backing up and cranking the wheel to the left as far as I could, I buried the rear bumper in dirt and mowed down any small tree in my way up to within a hair of a large oak. Then I'd rock forward, pointed downhill while turning up, again right up to a thick tree. Repeat. Repeat. Repeat. 
The truck responded precisely to my touch, and we were able to do a 180* in a very tight box in difficult terrain. "That was the most impressive thing I've seen," Travis calmly claimed. We still needed to fit through that narrow gap left by the first set of trees, this time climbing, and again the Gladiator proved its agility.
On the east side of the property marsh creeps right up to the field. The path we were taking was basically the dividing line between crops and marsh for about an ⅛ of a mile, and it got softer and slicker each time we barreled through, each time driving closer to where the land meets water. With each pass I'd go a little faster and test the edge more aggressively. With the boys in the Jeep I really pushed it. There's a little jig you've gotta do in the middle of the run, a quick right then left, which is more problematic the quicker you're going. A 6" dia. tree that had been cut, but still stood about 4' tall, encroached on the two-track there along with some other vegetation and brush. We tossed the Gladiator around it at speed and kept going, but it was fighting the mushier track trying to suck it in, the rear end drifting out with the front tires pulling us forward. The fear wasn't so much getting stuck as it was sliding into the pond or a tree. A mental note was taken: I decided I'd take it slower on the next, and last, ride. 
My sisters Melody and Hillary, Hill's husband Dave, and my dad rounded out the passengers for the finale. We were closing in on the "golden hour", which meant we were gonna take a lot of pics out in the corn and soybean fields during sunset. It was pretty routine for most of the excursion, we grabbed some killer photographs, and then towards the end of the ride was the "marsh" section. That mental note was floating around in my head somewhere, but it didn't announce itself until we were almost to that kink with the tree and the brush. "Oh, yeah!" and my foot came off the gas too quickly. As soon as that happened the truck pushed, which was completely my fault, and made way for that tall stump like a heat-seeking missile. The brakes weren't gonna do much; I'd slid in too close to the marsh. 
All of us braced for impact. The tree smacked and the mud splooshed and we came to a complete stop in a hurry. I couldn't have opened my door even if I'd wanted to, there was too much brush. I'm bummed there's no video or pictures of it because despite it being a mistake on my part, it was pretty awesome. Nobody said a word as I put the Gladiator into reverse, backed up a few feet, put it into drive (still 4 high), and just drove around the mess and up closer towards the field, on to the spot where the field ends and the two-track to the paved roads begin. There was still light. "I want to get a couple more pictures," I said, hopping out. "I want to see how much damage that tree did," dad replied. 
He picked a couple of branches out of the grill. I pulled out some brush that was stuck in the front suspension. "I can't believe it didn't even scratch it." Dad was impressed, and I was relieved. The dang truck ran over a tree and you couldn't tell. We got our pics, hopped back in, and went home.    
"I want one of these!" was Hillary's response to the ride. We even let her and Dave's basset hounds get in to see what they thought. They approved. Brian loved the Gladiator too, and my dad was trying to talk him into buying one so he could get it used from him in a few years, a plot that's worked before. 
The next morning Darla and I left the tops off for the 2 hour jaunt east to Detroit, taking as many backroads as we could. The weather was how you always wish weather to be, just a beautiful Sunday in Michigan.  

Before I returned the Gladiator Rubicon, I took it to a car wash bay. I spent 45 minutes with a power washer trying to remove dried up mud in places I didn't know the thing had. It just reinforced in my mind how solid the vehicle is, perhaps even enhanced my already lofty opinion of it. 
If you have the opportunity to drive a Gladiator, do it. If you're able to go off-road with one, jump at the chance. And, if possible, share the experience. You never know who you'll inspire.