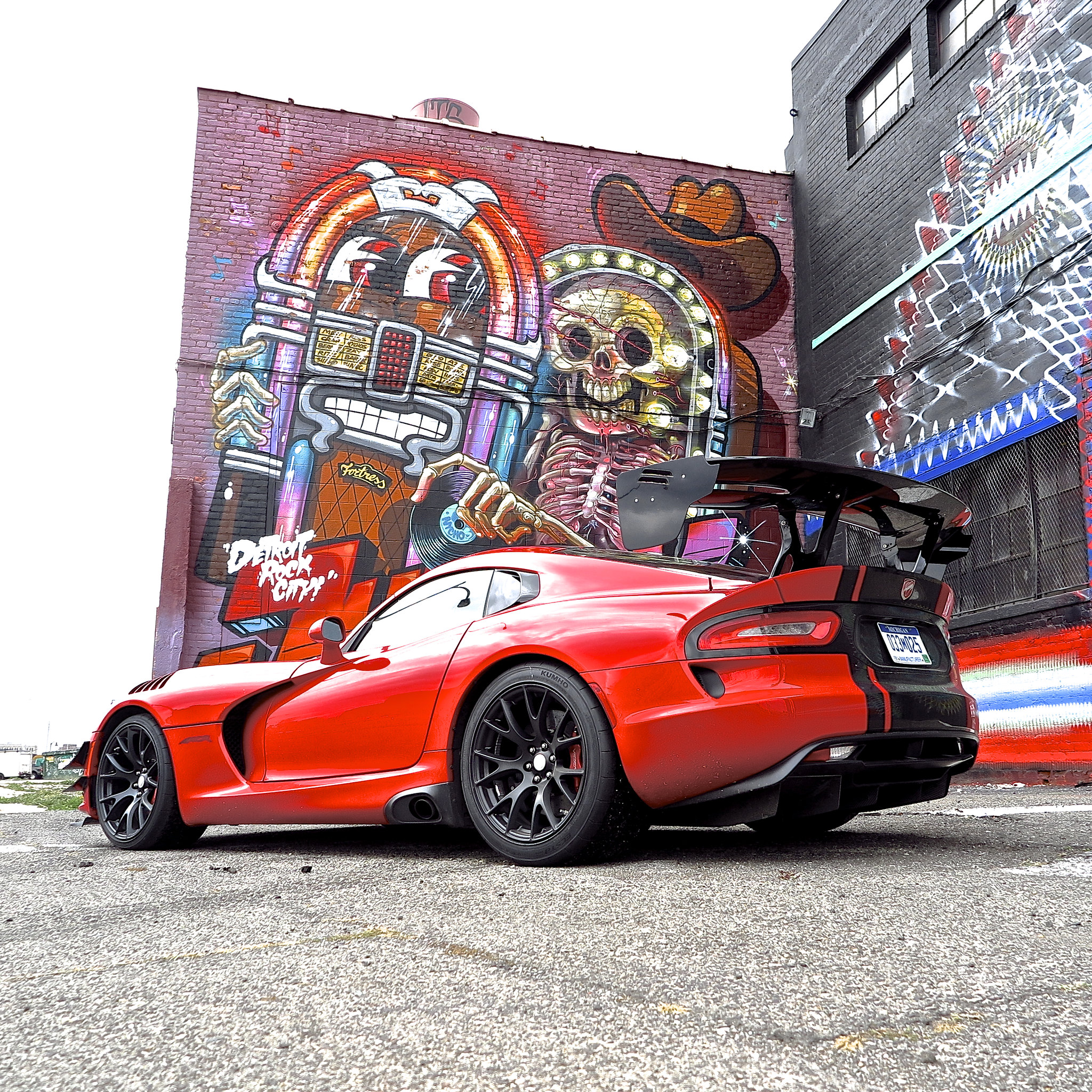 This article was originally published on Josh Welton's "Watch the Pretty Light" Kinja/Oppositelock blog on December 1, 2015, and was reposted on Jalopnik with over 30,000 views and lots of reader engagement. The Kinja/Oppositelock platform is now defunct.
Josh Welton, December 1, 2015
The 2016 Viper ACR is mostly a burnt offering to the Gods of Speed and Violence, with few concessions to mortal man. It's an iron fist in a carbon fiber glove. Developmental time was spent entirely on the track and in the wind tunnel; not a single second was afforded to street manners. Noise, Vibration, and Harshness are flaunted badges of honor earned in battle. It's a monster built to destroy lap times, not devour highway miles.
So of course, I wanted to drive it from Detroit to Las Vegas and back.
"Have you ever been loaned a supercar before?"
"No. Um… I did take a rented Sonic 8,400 miles on a road trip earlier this year!"
Dodge was trying to figure out who this kid was and why he was asking for the keys to their $140k atomic warhead.
I'm a welder and an artist from Detroit. Since undergoing a series of major arm surgeries over the last 3 years, I've also been doing some traveling and writing.
Dodge and SRT do an outstanding job of making you believe they're equal parts antiheroes and mad scientists, cooking up middle fingers to boring in the forms of burnout machines and track-day weapons.
Turns out it's not an act. They like to party. They have a sense of adventure and appreciate mine.
From a Sonic to a Challenger to the ACR. With this trajectory, I hope to be on Mars piloting a lunar rover by March.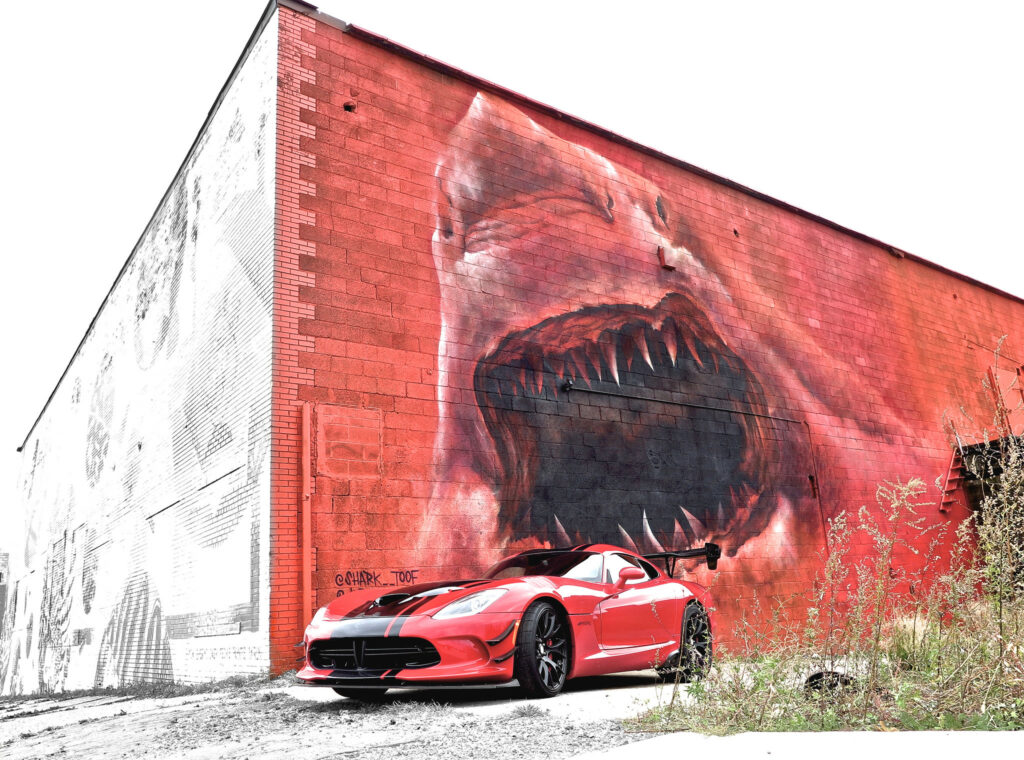 "Whooooeee!!! Sure is a nice car."
"Thank you, sir." Possessing a 14-gallon fuel tank and aero designed to push down paired with a V10 built to push through, the ACR falls under the "passes everything but a gas station" header. By Kansas, I was taking ownership of the car unless the conversation went beyond an initial compliment.
"Wut-ch'all doing with this thing?"
Mike was a through and through Marlboro Man, from the well-worn cowboy hat atop his head to his pearl snap shirt to the faded Wranglers and the square-tip boots on his feet. He and his boy Charlie were enthralled by the winged monster at the gas pump.
"Well, we're on our way to Las Vegas for the SEMA show," I explained.
Mike glanced at the Michigan M-plate.
"Why didn't y'all just fly?"
"I like to drive cross country."
The quizzical look on his frayed face turned to a smile as he nodded toward his Peterbilt. "Well then, there ya go!"
"Nah, the car is more my style. I'd be up for a little Bandit action, though!"
Charlie seemed to have a better idea of what the car is than most folks we'd run across, but instead of asking questions, he just soaked it in, happy enough with a close encounter. My co-pilot Ken returned from inside the station with a bounty of sugar in both drink and snack forms; we wrapped up the friendly small talk, shook hands, and parted ways. Slinking into the car, I watched Mike, Charlie, and whom I assumed to be their family load into his semi. They must see a bit of everything in their travels.
Wait…did Mike and Charlie just kidnap a lady and her kids?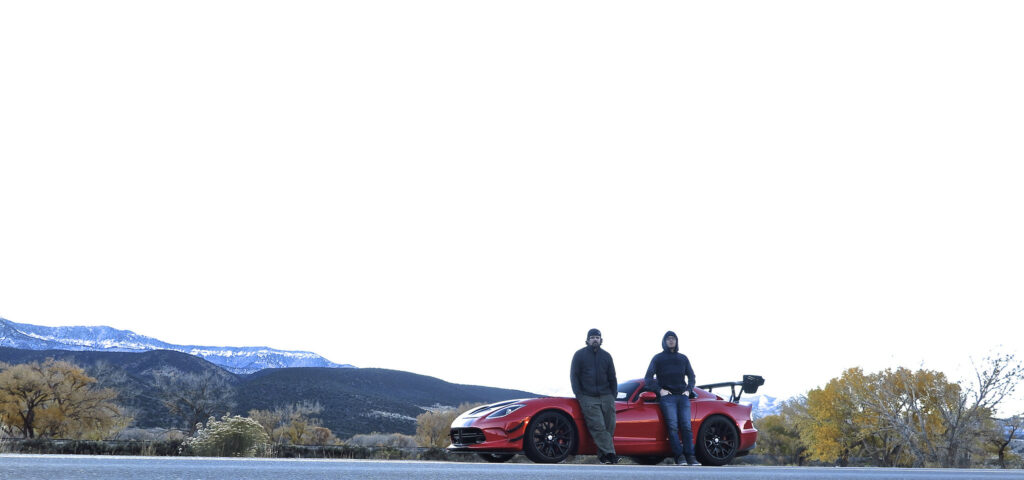 Road-tripping with a friend can be tricky. An extended string of days in close quarters lends itself to a certain amount of stress, of tension. Ken Cox and I have performed the feat a number of times. Talking is easy, it's knowing when silence is ok, that's the thing. "Never miss a good chance to shut up," as Will Rogers would say.
This would be a 5,050-mile trek through the Midwest flatlands, the Rocky Mountains, and the Nevada desert. Considering 2 of the last 3 years, I've run into snow on the same route just added a little "WTF" to the scheme.
"When we were told what you wanted to do, I thought, 'he's crazy'…
…but an awesome idea. Let's do it."
That was Jeff Reece, Viper Vehicle Integration Engineer. A fancy title befitting of an important job: he makes sure all the different aspects of the car work in harmony. He's been with the Viper program since 1995, which includes traveling 5 years in a row to the 24 Hours of Le Mans. I met with Jeff and another engineer, Oscar Mittelstaedt, for an informal walk around the car as I took delivery.
Oscar was the man in charge of NVH for the Viper program, AKA he was bored as hell messing with the ACR. "All I had to do was make sure the exhaust passed noise regulations. It is right on the edge. We hit the number and I said, 'shut 'er down, we're good!'"
The Adrenaline Red car with offset black stripes had the Extreme Aero option.
"We put it in 'street mode' for you."
There's already the front splitter. Then there's the Extreme front splitter, attached via a handful of fasteners and a couple of aluminum struts, which is designed to be a track-use consumable. As is the prodigious rear diffuser with its six carbon fiber strakes; in and out of turns, both ends rub the asphalt. For my trip, the extra front piece was gone. The rear strakes were there, but shorter versions. Dual dive planes were riveted to each front fender, and brake louvers sat ready to keep shit cool. The infamous X-wing was set to its least downforce-y position. Double adjustable Bilsteins, with 10 settings each for rebound (red) and bounce (blue), were set at 1/1 in the front and 1/2 in the rear or as soft as possible. Basically, you know…Cadillac Mode.
Harnessing a fire-breathing dragon to fly around town would have drawn less attention than piloting the ACR in all its winged glory through rainy rush hour traffic. No sooner had I driven 30 miles than the local Mopar Facebook page was posting pics of me sitting at a light.
Before our departure Thursday night, I headed down to Detroit's Eastern Market to snag a few pics (and a pizza pie from Supino's). A bit of a romantic, I learned my trade in the city and was not going to not cruise the only Detroit-built supercar around Detroit. Backing up to a cool wall done by Luke Chueh, I was immediately surrounded.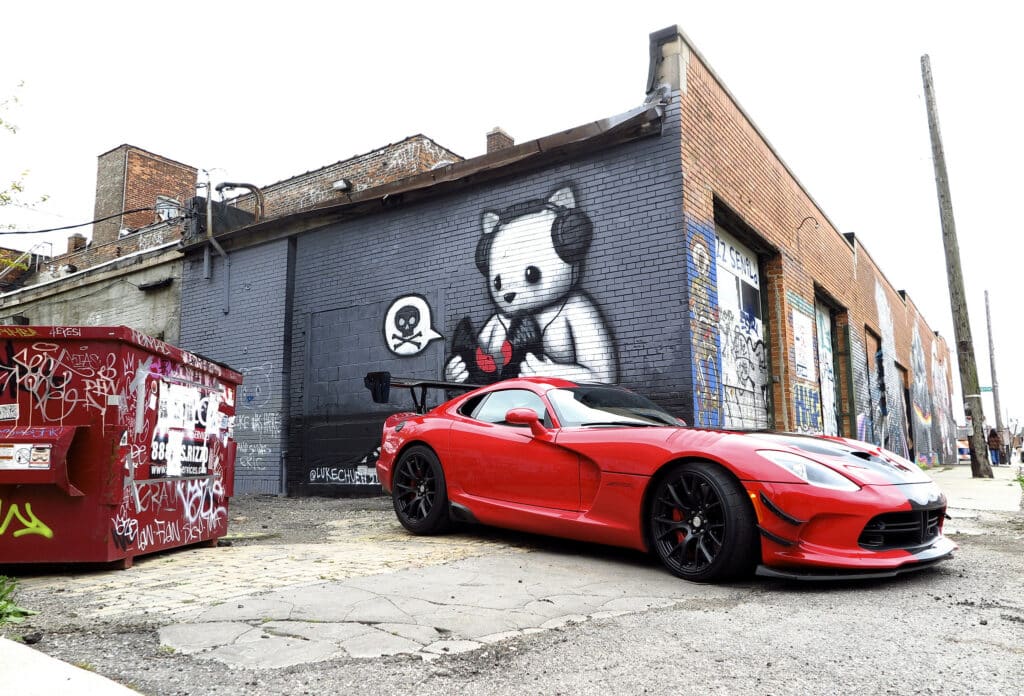 A handful of kids from Nashville (there to scope out the street art) were drawn to the ACR, dogs to a bone. Non "car people" who had zero idea what they were checking out but understood that it was something special. They asked if they could take pictures of the car…of course! They asked if I could take pictures of them looking like gangsters in front of the car…throw them gang signs up.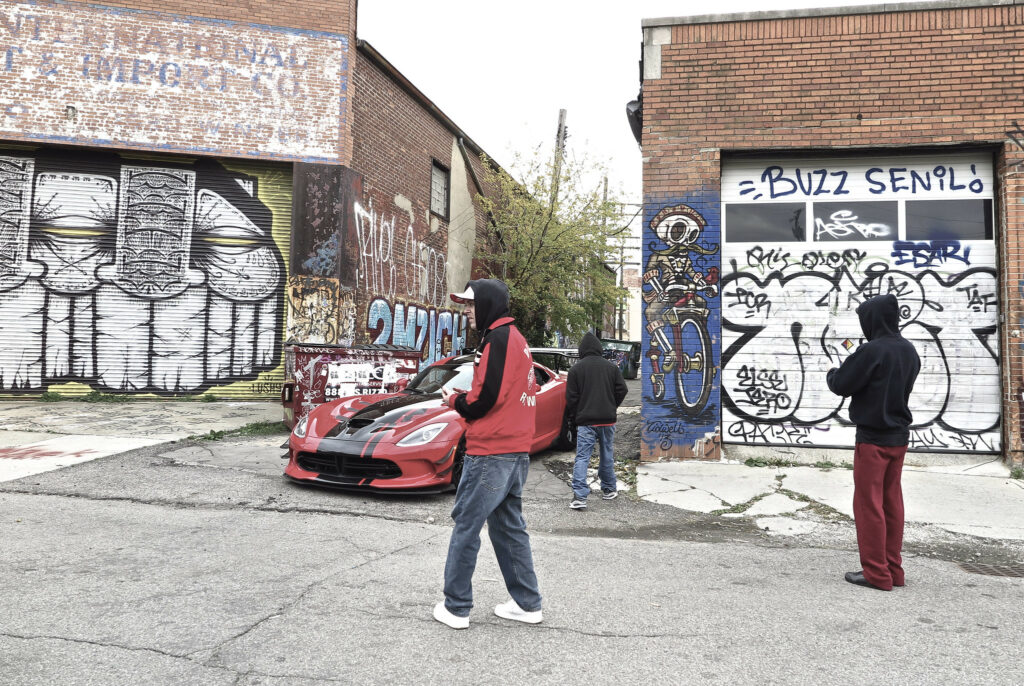 Kenny's roommate Matt Trombley is another friend, and he's done this journey with me before. His buddy Patrick Hoey heard I'd commandeered the ACR and himself gained access to the notorious '15 Viper GT that Roadkill "destroyed." Turns out they're pretty hard to kill. Matt and Patrick headed out with us from Detroit on Thursday night.
A few journalist friends who'd tracked the ACR warned me about the noise. Maybe it was my tinnitus, but the 8.4L V10's "on the edge of legal" exhaust drone was never a bother. To be fair, there is that helium-sucking tornado siren hardwired to my brain, courtesy of almost 2 decades of factory life not wearing ear protection. Lightweight carpet, no sound deadening, an already obstreperous machine made less refined for track psychos…Probably yes, it was my tinnitus. Sterling Archer has nothing on me.
It was almost midnight when we stopped at Anthony Busack's place just outside of Indianapolis. Anthony is a gearhead and all-around good guy; Matt and Kenny met him on this year's Hot Rod Power Tour, where he was rocking his 500rwhp LSX-powered first-gen Camaro.
Anthony and his wife Kristy didn't just leave the lights on for us, they broke out the booze and Funyuns. After several hours of snacking and drinking and debating things like GT350 versus Camaro SS and how Dostoevsky's worldview in the late 19th century is relevant to our contemporary society, we wandered to various corners of the house for a few hours of sleep.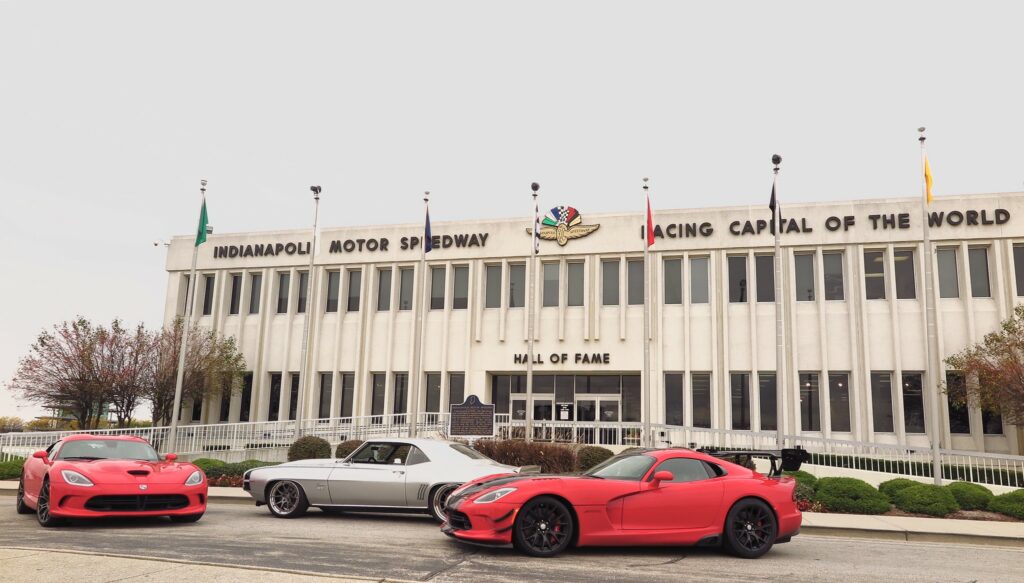 Morning came and Mr. Busack wanted to roll with us for a bit, so we followed his Camaro to the Indianapolis Motor Speedway. As the fellas were composing their shots, I tried to steer clear of their lenses, bumbling around until I struck up a conversation with a gentleman there to visit the Speedway Museum. Turns out we'd both worked for General Dynamics, he in munitions and myself in Land System's prototype shop. The dude was a fan of the ACR and familiar with the SEMA show.
"You're going to SEMA…don't most guys trailer their cars?"
"It's not in the show. I'm a sculptor; I'll have work displayed in the art exhibit. So I asked Dodge if I could drive it to the show."
(Looks at ACR, pauses.)"You must be a hell of a sculptor."
Photographs captured for posterity, we bid farewell to Anthony and hit the road hard, traveling westward on I-70.
"Are you going to track it?" Negative, Ghostrider. Everything you've read about the ACR up until now has been a road course review. Nobody, save the few miles Road & Track was afforded for their PCOTY contest, was allowed to street it. But in front of me was the open highway, the mountains, the desert.
I didn't need the track.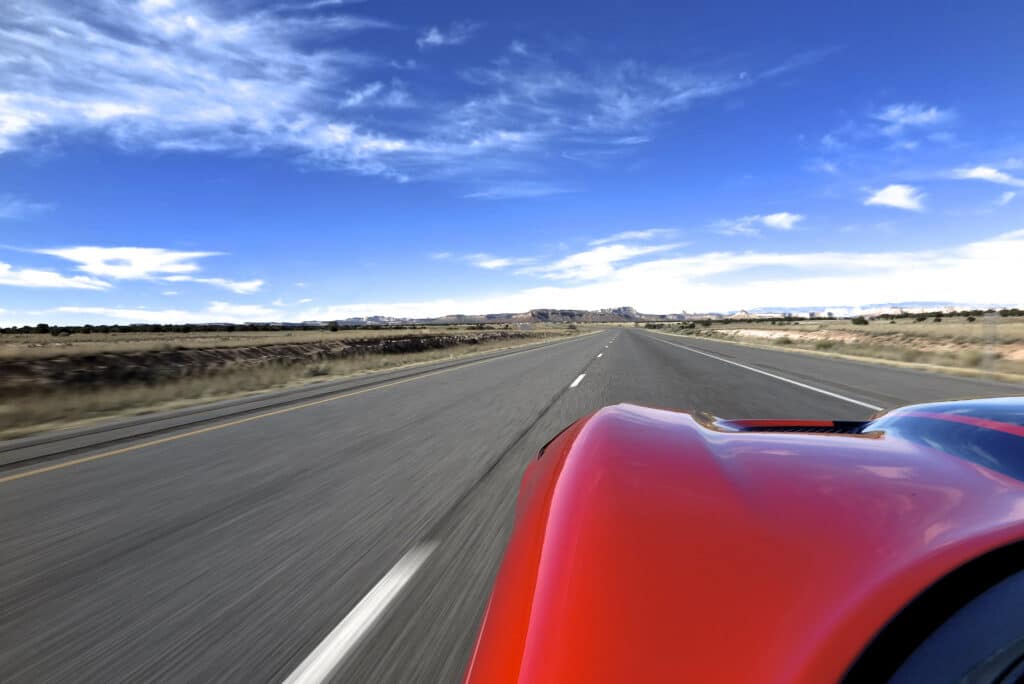 Some joked about the car's harshness that I'd be pissing blood and needing a week in traction for spinal repairs upon return. Others postulated that the car requires too much attention; the brain drain alone would put a damper on such a trip in such a car.
You're all soft.
The asymmetrical KumhoV720 ACRs were specifically designed for this car, for it's aggressive camber, for the massive downforce. Staggered 295/25/19s and 355/30/19s provide the largest contact patch of any production car. Despite their 200(cough-cough) treadwear rating, Jeff cautioned me sticky compounds like these don't play by ordinary tire rules ("Below 45* they could harden and get slick. Below freezing they might crack."). And the wider the tires, the more likely they turn into water skis ("It'll handle rain, but any standing water and you'll hydroplane."). Snow is a no-go. These are, for all intents and purposes, race tires.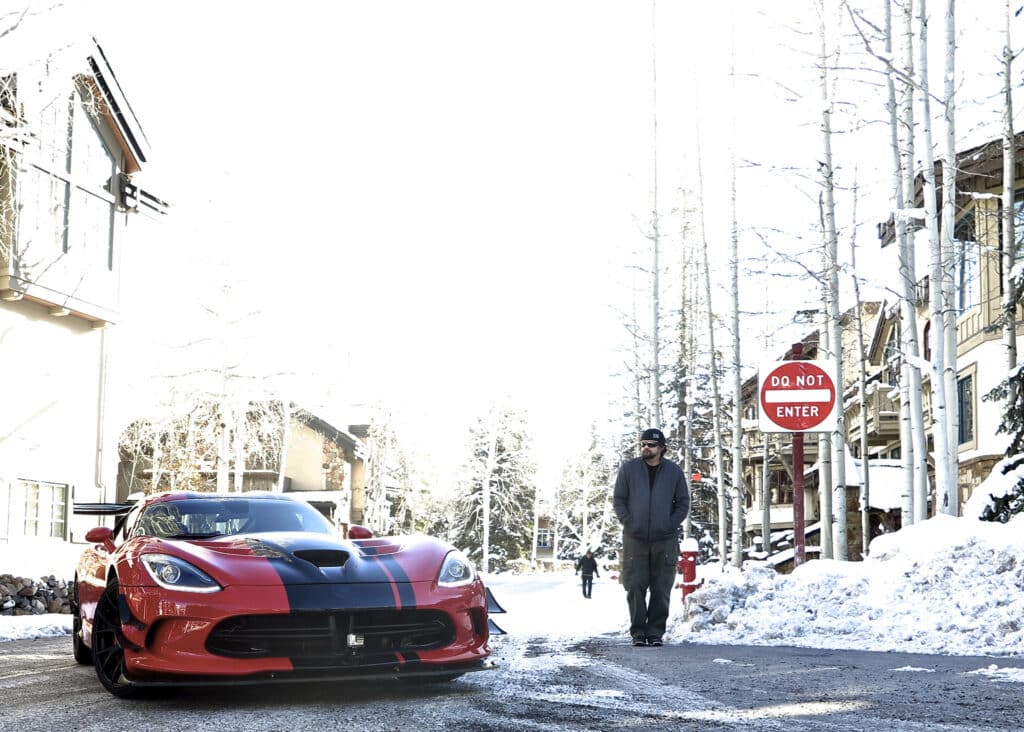 By Friday afternoon, the clouds had properly let loose. 5th gen Vipers have a "Rain" ESC mode, which is outstanding. The GT took the lead as water coming off the X-wing destroyed the visibility of everything in its wake. After picking through Kansas City traffic, we bulldozed the storm until halting somewhere in western Kansas for the night.
Preceded by so much Boring, USA, that first glimpse of the mountains always stirs my soul. "Awesome" stops being an overused adjective and starts becoming an appropriate baseline statement. With the Rockies in site, our duo headed southwest off I-70. We dipped and dived through one stoplight towns and eventually Colorado Springs before hooking up with US Route 50 West.
Weather was finally decent, mid-60s and dry. Roads were unraveling into the hills. I was able to hit the go pedal and have fun with the thing that, on the track, can easily sustain well beyond the gauge's 1.5 Gs max in turns.
The Saturday afternoon cruisers ahead weren't going to ruin it for me. I may or may not have passed one or two or four of them in a single shot, screaming around bend after bend until realizing I'd put a bit of distance on our traveling party. I slid onto a dirt pull-off above the oddly placed Arkansas River.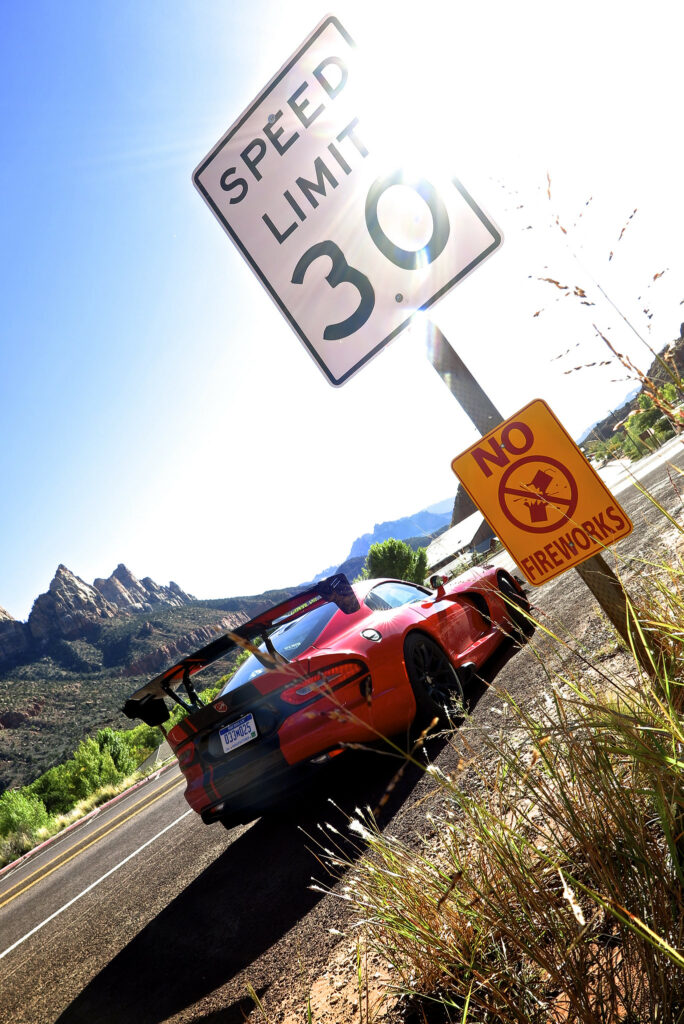 When Patrick and Matt showed up a minute later, Patrick wasn't super thrilled. "Well, now I can't use that GoPro footage because you just [insert the description of the things I did when I took off that may or may not have been "technically illegal" here]."
"You realize you flew by a DNR officer, yeah?"
Thinking in terms of right and wrong is insufficient. This car is the Übermensch, everything else is "something to surpass." It sits squarely outside the arbitrary rules and regulations of man. You will never come close to touching the ACR's upper limits outside of a track. "Caution, 45 MPH Curve" lit up on yellow signs seemed like odd suggestions. No Passing Zones failed to compute. Nietzsche would have been first in line to place an order with a One of One dash plaque reading "God is Dead." Because he had, you know…a sense of humor.
A dirt-covered off-road and zombie apocalypse-ready F150 owned by the DNR pulled in behind us.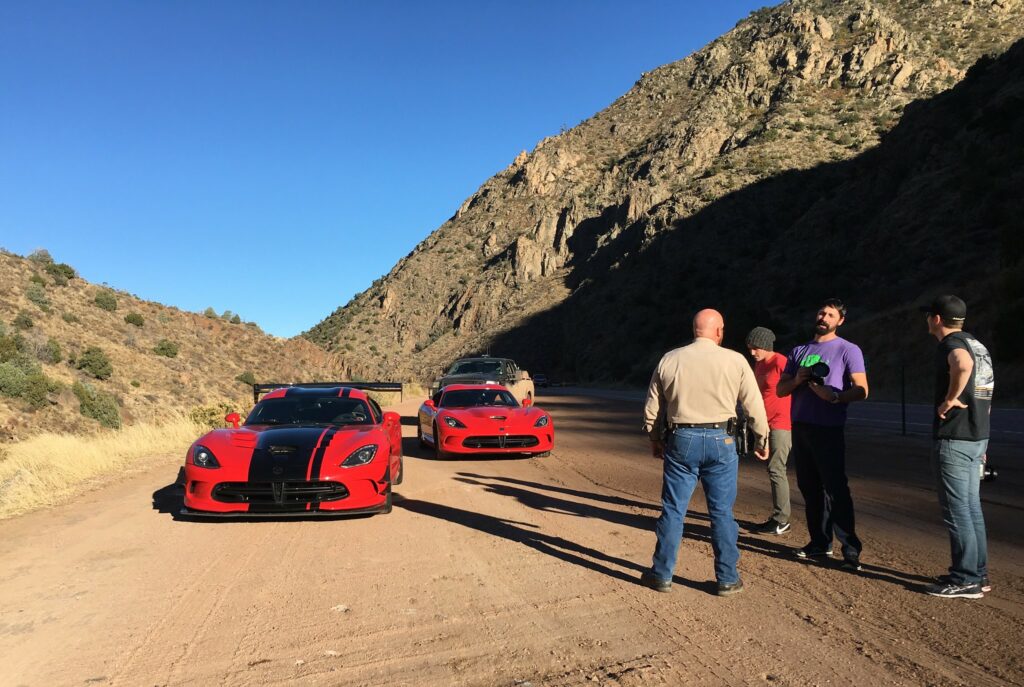 Zach was the District Wildlife Manager for the area and Mopar nut. Needless to say, he was stoked.
"How fast did you get it up to right there?"
"Uh…you mean hypothetically?"
I gave him the number. He grinned.
My man was loaded for bear. And "by bear" means an impending invasion by a foreign military. 1911 pistol on his side, an AR-15 in the truck and everything between was within reach.
Our crew chatted with him a bit about the trip overall and our plans for the day. The big yellow thing was dropping. As fate would have it, Zach could escort us to an out-of-the-way plateau where the photogs could grab some spectacular Viper still life at sunset.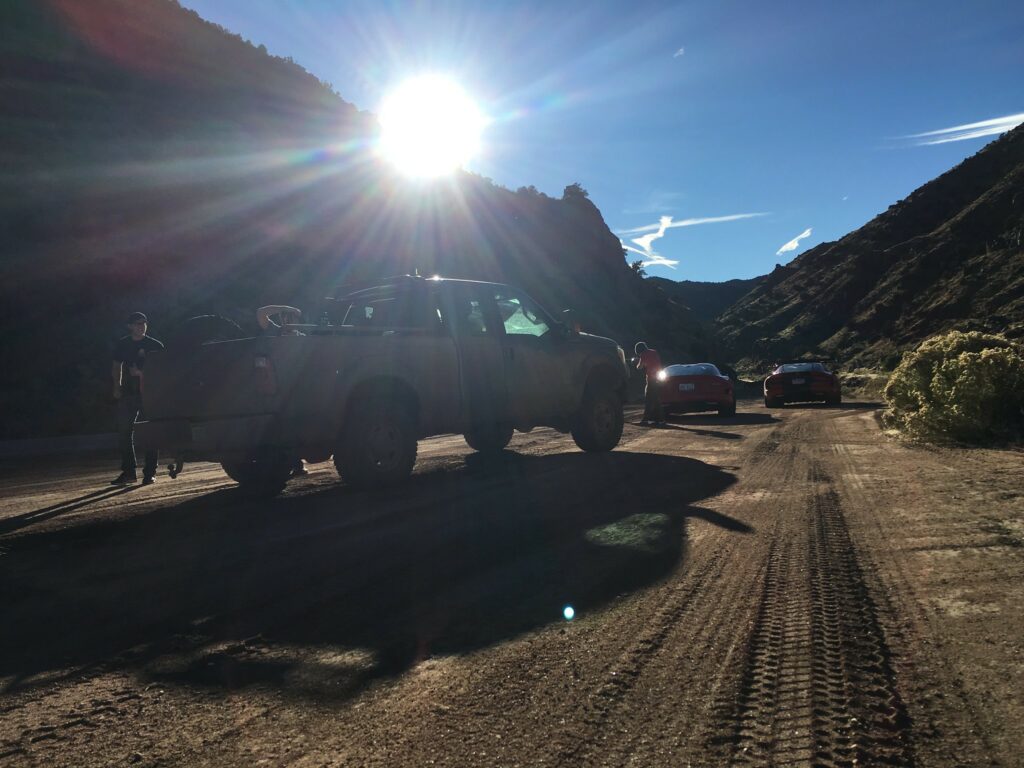 He also gave me some hand-scratched directions for a few "fun" roads on our way west, but it was dusk and I needed to be in Vegas the next night. While the other two looked for another photo-op, Kenny and I jetted on.
The ACR is an extension of your reflexes. Things happen almost before you're conscious of them. It's like a Kaijū fighting Jaeger-bot, where the machine is tapped into your brain and reacts based on your thoughts as well as your actions.
Deer. BRAKES. I stared a doe eyeball to eyeball that night as it stood no farther than two inches in front of the Viper's front splitter. We took a second to acknowledge each other with the unspoken bond that comes from worshiping at the altar of the 1500mm worth of carbon ceramic brakes sitting between us. And then we parted ways.
Growing up in West Michigan, close encounters of the wildlife kind were a routine occurrence. Hell, I once killed an eight-point buck with a'94 Z28. The surge of adrenaline that always follows those incidents and near misses was strangely absent this time. Despite being on top of us before I saw it, there was no drama. Just apply brakes and stop.
This was my 5th year attending SEMA, 4th as an invited artist. 7 of us made up the show's Art Walk: Max Grundy, Jeff Allison, Ed Tillrock, Bomonster, James Owens, Tom Fritz…and me. A brilliant bunch of which I was honored to be a part.
From the outside looking in, you only get a glimpse at the obscene, the shit built to be that shiny thing that draws cameras to their corner of the show. The reality is, no matter the automotive niche you favor, there will be something for you. Monster trucks to mini trucks, drift cars to lowriders, kustoms to hot rods. Exotics, Top Fuel dragsters, TV famous street racers, rock crawlers, tuners, resto-mods, pro-streeters, and numbers matching restorations. OEM skunkwerk projects, the big name shops' latest and greatest and garage built beauties. Every aftermarket company is represented from go fast goodies to off-road gear. Tool manufacturers, 3D printers, fabrication and paint equipment suppliers, they're all there. 90% of anyone who is anyone in the automotive world gets to Vegas for at least a day of SEMA.
At Mopar's presser on Wednesday Dodge/SRT CEO Tim Kuniskis announced that, on the track, the ACR had made a clean sweep. 13 tracks, 13 production car records, the latest of which being Laguna Seca where it had just days before annihilated Porsche's 918 lap by 11 car lengths. The actual car, still filthy from its conquest, was in their display. On it was 13 stickers representing the 13 tracks. Standing next to Mark Trostle, head of design for Dodge and SRT, during the reveal, I nudged him: "You guys should probably add a sticker of I-70."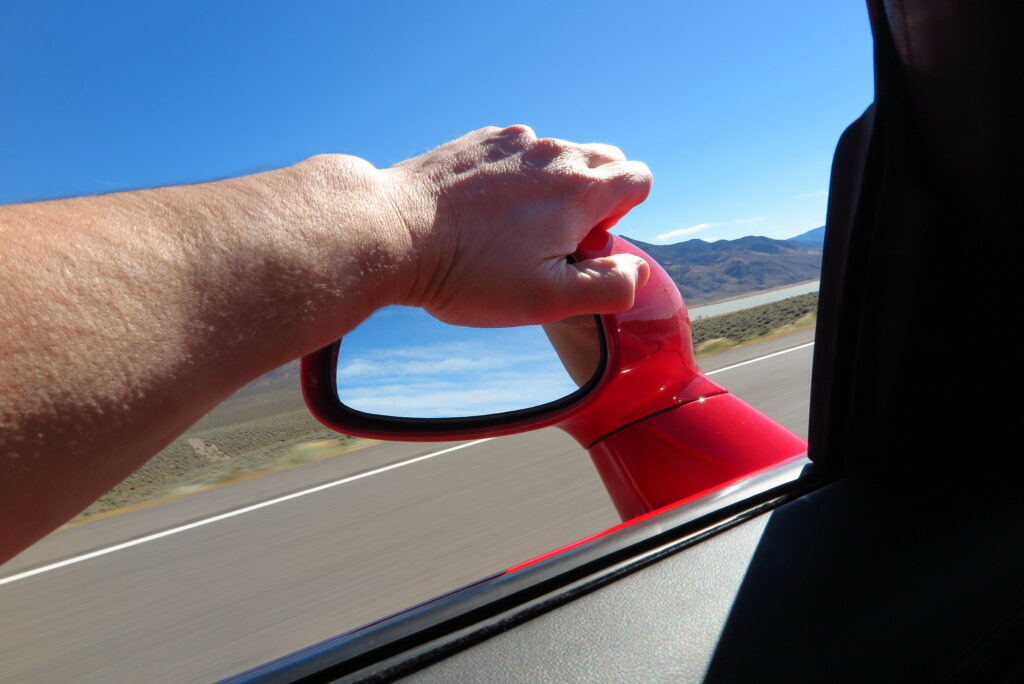 It was kinda fun knowing my daily driver for the week had just run roughshod over a million-dollar, 900hp hypercar and all else in its wake at every track where it turned a wheel in anger. ("Did I just see the ACR in general parking on my way in?" "Uh, yeah. Where else would it be?")
Friday post-show, there was a parade of everything that ran under its power. They left the Las Vegas Convention Center and ended up either cruising the Strip, loading into a trailer or in a giant parking lot where there was an after-party called SEMA Ignited. The latter was neat, if not a little Fast and Furious-ish. Organizers parked the imports together, the exotics together, the off-road trucks with each other, the muscle cars in a group, and so on. There was a drift exhibition, a handful of front-engine dragsters that lit up, food trucks, and multiple stages with music acts.
At some point a RX-7 showed off its flame shooting skills. That led a few guys to fire up their rides and, without allowing their engines to warm, they just revved the hell out of them ("Why do you hate your engine??" new friend Adamo was screaming at a dude pegging his M3). It was a weird contagious thing that spread like syphilis through barracks. A row of Mustangs got in on the clown act and pushed their cold cars to redline. Then, burnouts. A hot rod with line lock spewed smoke and rubber every which way. One of the Mustangs followed suit. Considering the gathering horde it was a small coup nobody died.
The next morning Kenny and I left Sin City and pointed the needle back towards Detroit. Weather was going to be a bit of a factor; Flagstaff, part of the (typically) safer southern route, had just gotten dumped on with snow. A cursory look at the forecast showed the I-15 to I-70 course was our best bet.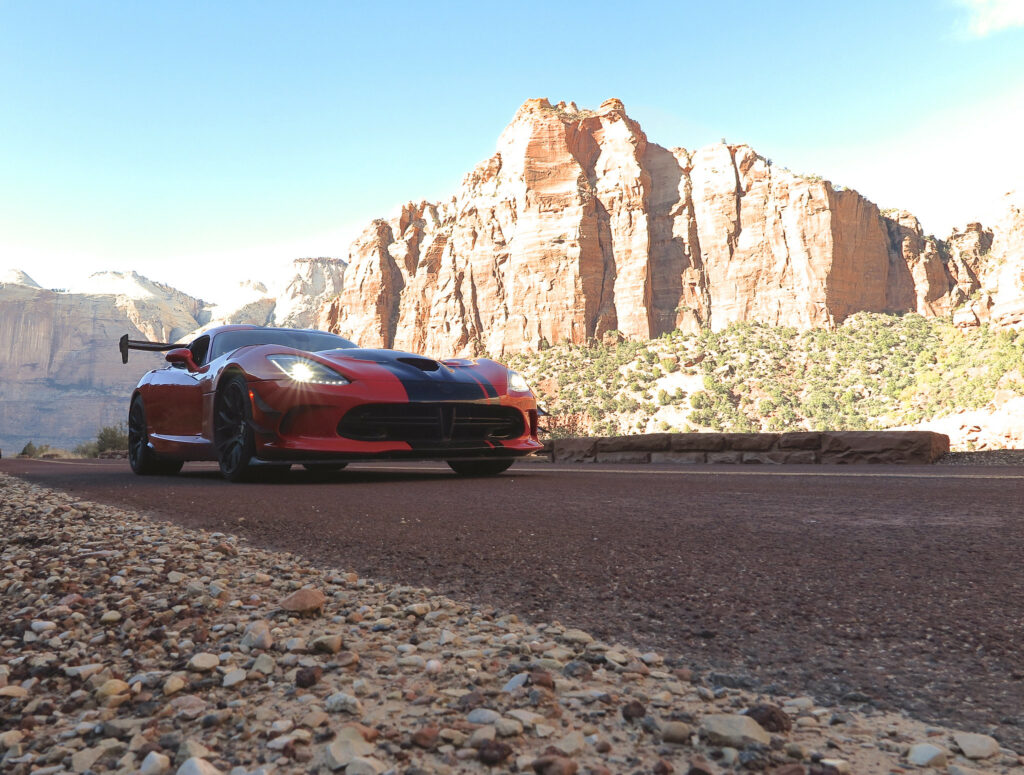 We were in Utah, sifting through some light weekend traffic when the highway became congested due to panic over a police car sighting. The SUV in front of me slammed on its brakes as we went by the cop. A glance in the rearview mirror and… the Charger pulls out. I was already slowing down and getting over by the time the blue and red flashed.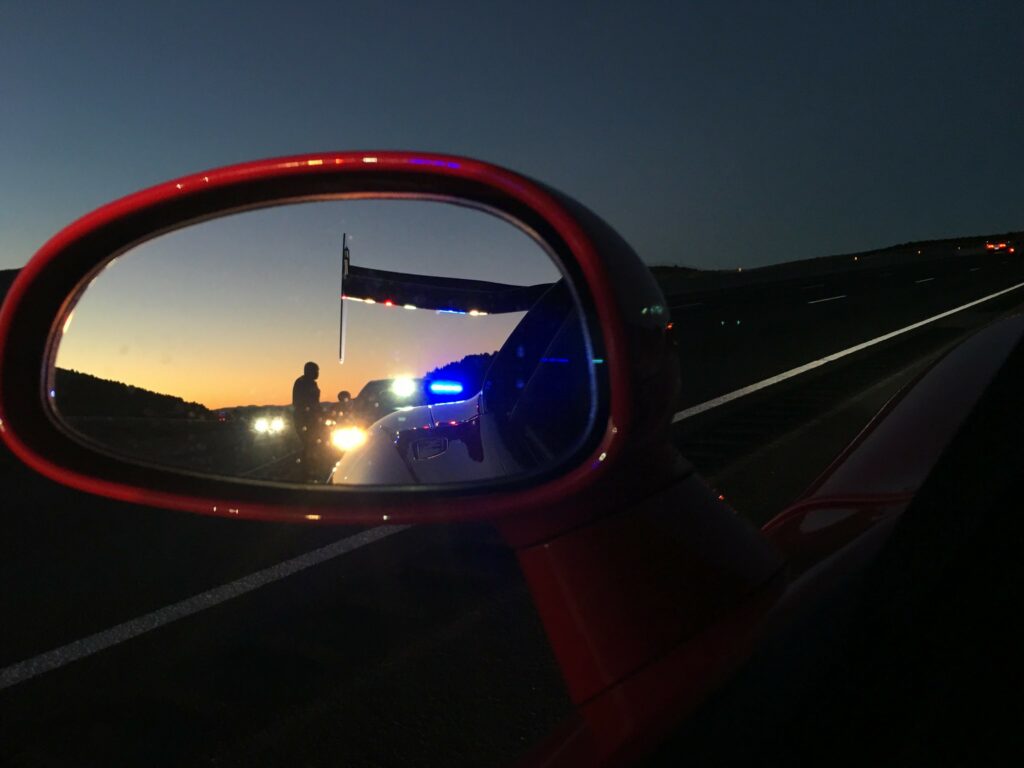 "Can I see your license and papers? Where are you guys heading?"
"Detroit. Can I ask why you pulled me over?"
"You were tailgating."
"Well, Yeah. The guy slammed on his brakes when he saw you!"
"The Escalade? Yeah, he did. Actually—- I was looking for you."
"Uh…oh…"
"I'm not here to argue with you, the tailgating just gave me a reason for the stop. An off-duty officer called ahead and…"
"Oooooooooh"
"Like I said, I'm not going to argue with you. The off-duty officer said he was pacing you at well over [redacted] miles an hour."
"Understood."
"I'm sure it's hard not to go fast in a car like this. And I'm sure you'll open it up again between here and Detroit….Be safe."
And that was it. A two-minute stop, a new record for me.
I think about death now and then. Everyone dies, but it's what you do up to that final breath that defines you. I've always hoped to achieve a sort of immortality—-to leave a worthwhile legacy through my words, my work, and my art.
The Dodge Viper might die in 2017, although I've been around the industry long enough to know nothing is ever written in stone. I was asked about the Viper's future a bunch on this trip. Here's the thing: What does a potential production stop in two years have to do with this car? Whether or not there's another generation, this car is a thing that Dodge, and Detroit, can be proud of sharing with the world. I didn't have a blast driving a 2018 Dodge Viper ACR 5k miles across 10 states and back, I had a blast driving a 2016 Dodge Viper ACR 5k miles across 10 states and back.
We humanize cars, talk about them as living, breathing things. But they're steel, aluminum, carbon fiber. They don't leave a legacy. They ARE the legacy. The '16 ACR, what it is, what it has accomplished, what it will accomplish, is part of a tangible nuts and bolts benefaction from car guys like Ralph Gilles, Tim Kuniskis, Mark Trostle, and Jeff Reece. How cool is it that we live in an age where hot rod guys get to build hot rods at an OEM level? The Ford GT, the Focus RS, the GT350R, the Z/28, the Z07, the Hellcat, the ACR; Detroit is crafting their legacy right now.
Four Thousand Revolutions Per Minute. Dump clutch. Wide Open Throttle. Hold on. Rear kicks out just enough to keep things interesting. Get angry and pull the shifter into 2nd POP POP POP! Those 10 cylinders echo in your bones. Curse and slam it into 3rd POP POP POP! Objects in rearview mirror, X-wing excluded, appear smaller.

Let us give thanks.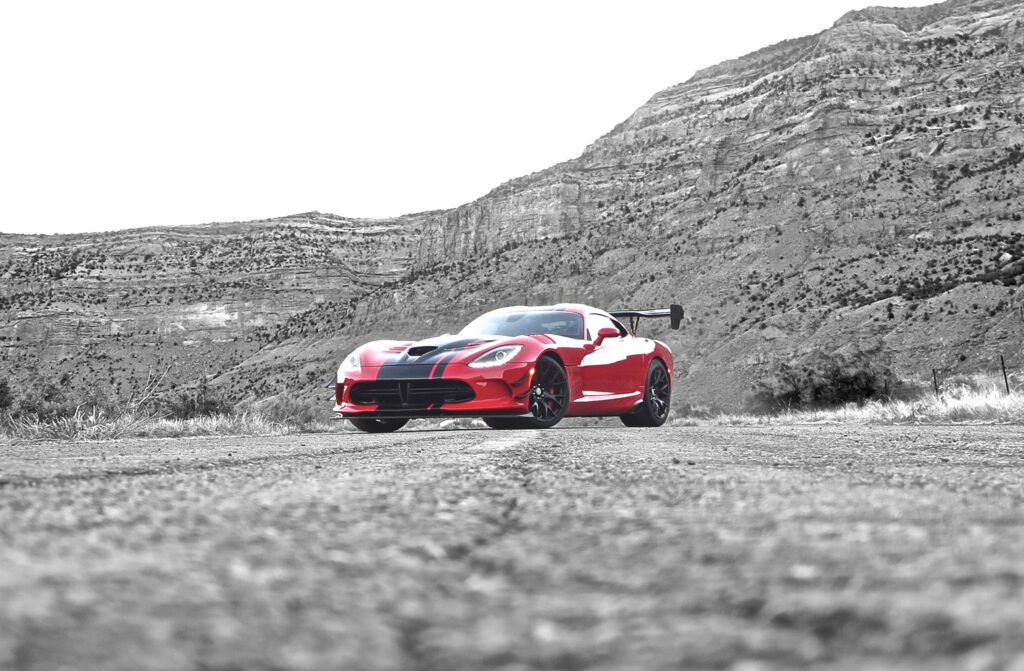 Related content from Josh Welton
Viper ACR Sculpture
• TheFabricator.com: Rediscovering a passion for fabricating metal art sculptures: A medical procedure to alleviate arm pain helps Detroit welder get back to artistic ways with Dodge Viper sculpture
• DodgeGarage.com: Inspiration Doesn't Come Easy
• The ACR Sculpture goes to a loving home with Ralph Gilles
• The ACR Sculpture, Ralph Gilles takes it home
• ACR Sculptures Photos
Other Viper ACR Content
• 5 Favorite Dodges I've been pulled over in
• TheFabricator.com Less Swagger in Detroit? So Long Viper